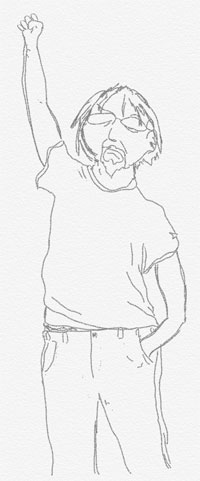 Geek Power…
I kinda hate about pages, so this page will probably never be finished and will get periodic updates. Some solid stuff though: I am married, I am a geek, and I spend too much time behind the computer…and I am easily distracted when there isn't a paycheck holding my attention.
If you have looked around the page some, you probably know far more than I could include here, but I will try and include a brief summary and maybe a few things I tend to mention much. For starters, my name is Ian Doyle. I was born and raised in a little town of less than 3000 people. I am the youngest of five. I am happily married to my wife, Erin. She is also one of five. And we have been together since high school.
I have been to college, 4 of them over the years, actually. I have kinda bounced around in what I was studying: Electrical Engineering (VU, IUPUI), Computer Science (IUPUI, ISU), and finally Visual Communications (Ivy Tech). VU was great, but I knew before I left that wanted to do something more along the lines of programming. At IUPUI, I was barely earning enough money to pay the bills and my quest to work more to earn more took precedence over everything. At the time, I felt like everyone and everything was up against me, but it was just money and bills…they suck. In turn, the only thing I learned from the experience came from my job. Which to be fair, was quite a bit. I learned a lot about unix systems, networking, scripting, and how people use/misuse computers. Still, after a year, I was done. At ISU, I was basically in the same position, only I wasn't learning anything at work. I stopped after a semester because I didn't want it to get as bad as IUPUI. Years later, I enrolled at Ivy Tech for a VisComm major, but I really just wanted to take some art and design classes to rekindle some creativity. All-in-all, after about five years in college, I have an associates degree in science that I got at VU. Yay school!
I have kind of bounced around in work as well. I have done fast food, physics and math tutoring, an internship at a navy base, computer consulting, retail, factory work, and more retail. All of them have been exciting at times, horrid at others, a joy, and a pain. And I would do all of them all over again if I had to…except maybe the fast food one. I have also been unemployed as well. I have yet to find anything more depressing than not working.
I have an on and off relationship with video games, MMOs specifically. Right now, I in a down swing in World of Warcraft, only log in for about 5 minutes a day, and my account expires in about two weeks…I doubt I will re-up for awhile. I have been doing a lot of coding lately, and I always seem to want to play first person shooters when I really get into coding.
Speaking of code, it is another small obsession of mine that hits in waves. This site is the bulk of my programming. Thousands of lines of code that let me and my users create, edit, and share information. The site is basically a huge cgi script (and dozen or so smaller scripts) written in perl with a MySQL database behind it. Collectively I call her rantfest. Every page you load on this site, or any of its sister sites, will poll the database and dynamically generate the HTML and CSS to render the page. This site has been around since February of 2004, but it was built from the same code base I wrote for another page me and a friend created in 2002 (I think 2002…). From a meager journal page to the meager baby-CMS you are experiencing now. I am proud of her. Sure she could be a lot farther along in the seven years, but work, school, marriage, family, success, and failures have all needed their time as well.